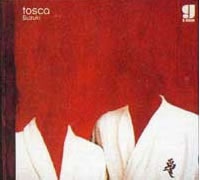 Tosca

A side project for Richard Dorfmeister of the trip-hop production team Kruder Dorfmeister, Tosca also includes Rupert Huber.

Recording for KD's G-Stone label, the outfit released the singles "Chocolate Elvis" and "Fuck Dub" during 1996. A triple-pack of remixes -- from Fila Brazillia, Baby Mammoth and others -- appeared in early 1997, after which Tosca released their first LP, Opera.

Suzuki followed in early 2000.